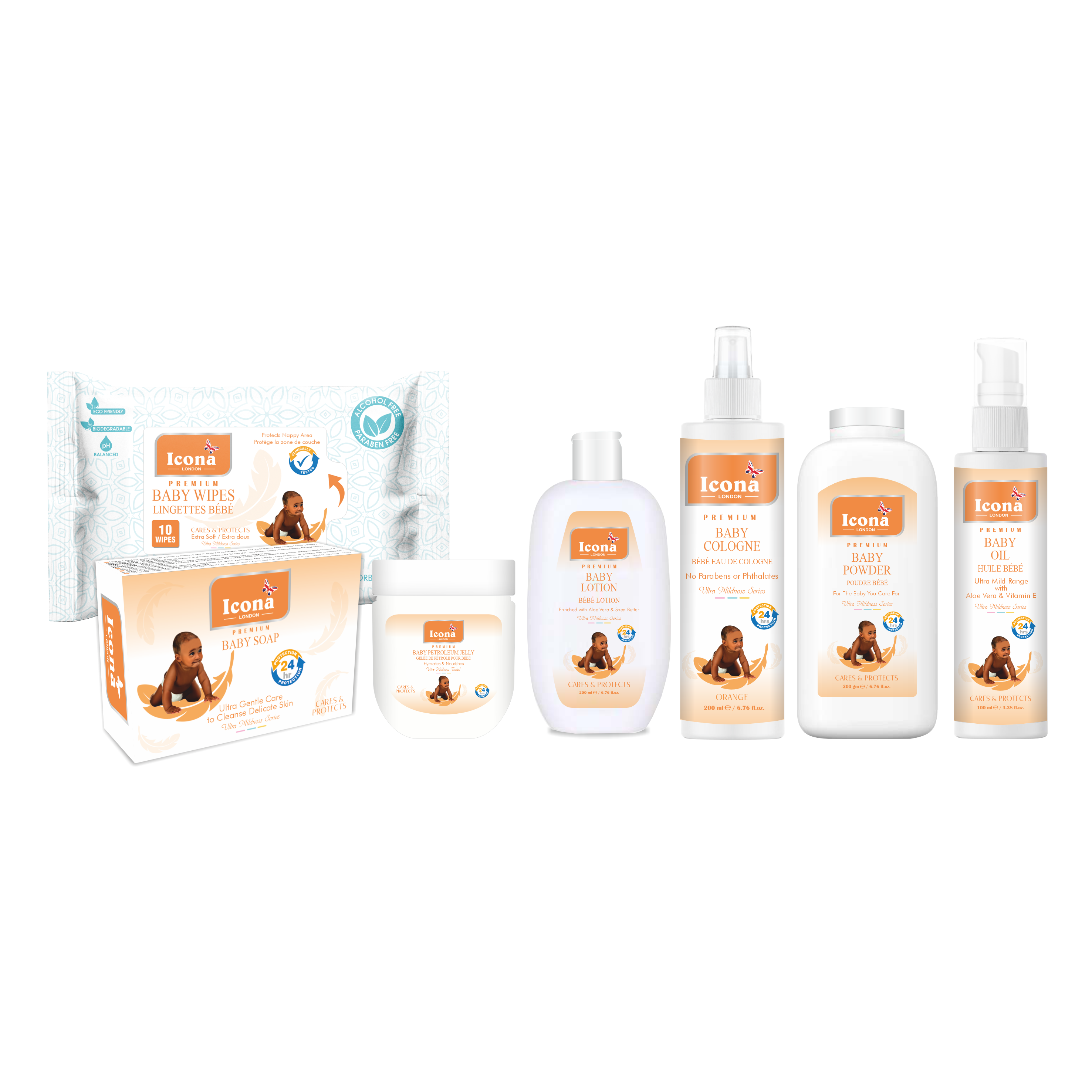 Premium Baby Care Kit (Orange)
Description
Introducing the Icona London Premium Baby Care Kit – your ultimate companion for nurturing your baby's delicate skin from head to toe. Our meticulously curated kit encompasses a range of essential products designed to provide the highest level of care and comfort for your little one.

GentleCologne: Infused with a soft, delicate fragrance, our cologne leaves your baby smelling fresh and huggably sweet.

NourishingJelly: Enriched with natural extracts, our jelly soothes and protects your baby's sensitive skin, providing a gentle barrier against wetness and irritation.

UltraHydratingLotion: Indulge your baby's skin with our nourishing lotion, formulated to lock in moisture and keep their skin velvety soft throughout the day.

SoothingBabyOil: Pamper your baby with our specially crafted oil, designed to provide a gentle massage while maintaining their skin's natural moisture balance.

SilkyPowder: Our powder absorbs excess moisture, keeping your baby's skin comfortably dry and helping to prevent irritation.

PurestBabySoap: Mild and tear-free, our soap cleanses your baby's skin without stripping it of its natural oils, ensuring a gentle bathing experience.

TenderBabyWipes: Our soft and hypoallergenic wipes are perfect for quick clean-ups and diaper changes, maintaining your baby's hygiene and comfort.

The Icona London Premium Baby Care Kit is a testament to our commitment to providing the best care for your baby. Each product is thoughtfully created, dermatologist-tested, and free from harsh chemicals, ensuring your baby's safety and wellbeing. Elevate your baby's skincare routine with this comprehensive kit, and embrace the joy of nurturing your little one's precious moments.
Baby Care Range.
Baby Care Range.
Baby Care Range.
Baby Care