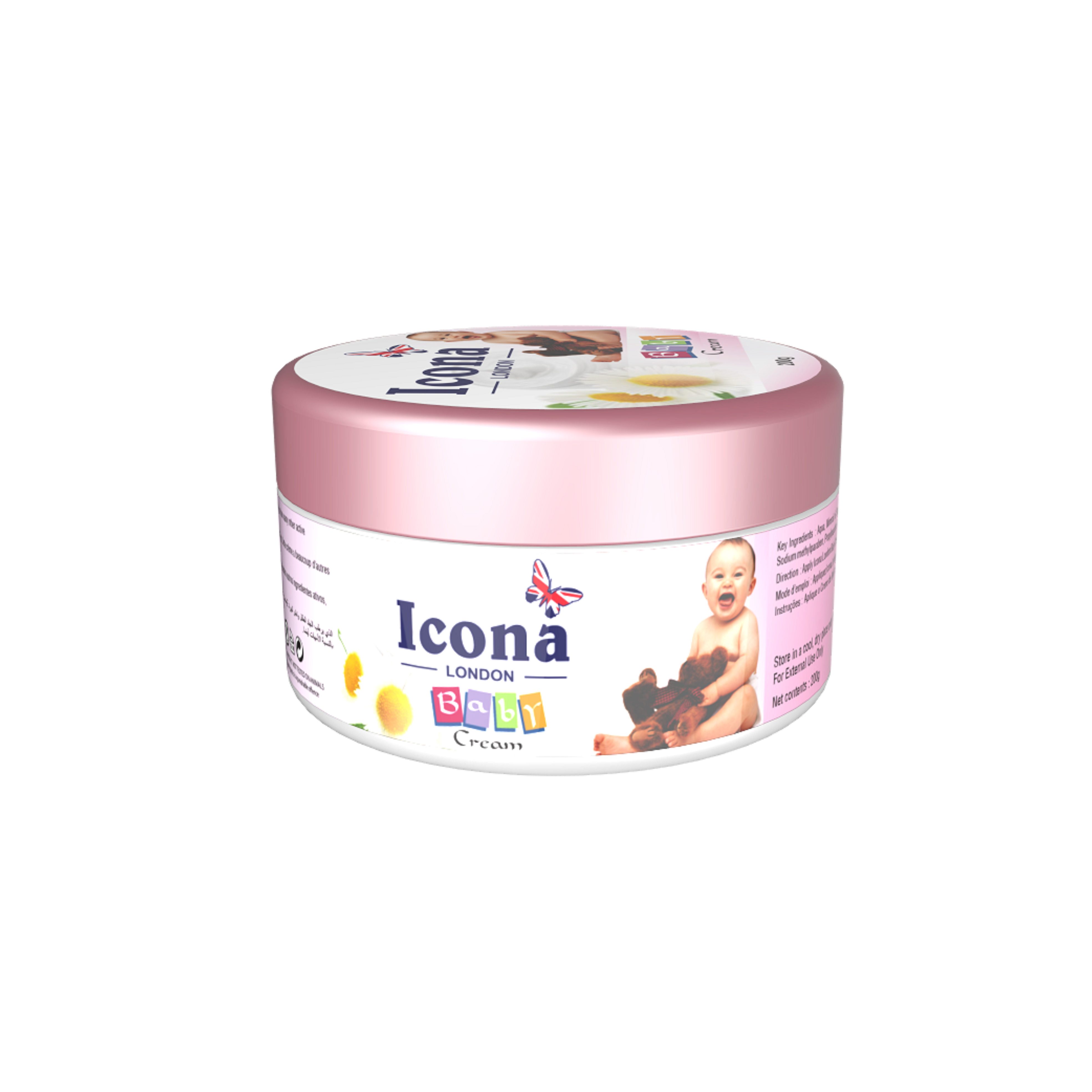 Premium Baby Cream
Description
Introducing Icona London's Nurturing Baby Cream - Embrace, Nurture, Naturally!

Embrace the essence of care with Icona London's Nurturing Baby Cream, a gentle hug for your little one's delicate skin. Meticulously crafted with expertise, our baby cream is designed to offer a soothing and enriching experience, ensuring your baby's skin remains as soft as a whisper and as smooth as a dream.

🌼 Why Choose Icona London's Nurturing Baby Cream: 🌼

🍃 Natural Embrace: Enriched with the finest natural ingredients, our baby cream presents a harmonious blend of nature's best to keep your baby's skin healthy and content.

✨ Ultra-Gentle: Your baby's skin deserves the utmost care. Our cream is thoughtfully formulated to be mild and non-irritating, a perfect match even for the most sensitive skin.

🌿 Nourishing Hydration: Enriched with moisturizing elements, our baby cream offers enduring hydration, shielding against dryness and maintaining that cherished baby skin.

🌸 Delicate Fragrance: Revel in a subtle, captivating aroma that's as comforting as a lullaby, turning each application into a sensory treat.

🌟 Versatile Care: From tiny toes to little cheeks, our baby cream suits various skin needs, establishing itself as a fundamental part of your baby's daily regimen.

✅ Trusted Quality: Icona London stands for exceptional quality and care. Our baby cream undergoes rigorous testing, ensuring it meets the highest standards of excellence.

Wrap your bundle of joy in the warmth of Nurturing Baby Cream by Icona London. Conceived with a profound understanding of your baby's needs, our cream echoes our commitment to elevating those invaluable moments of bonding and care. Elevate your baby's skincare routine with the touch of luxury they rightfully deserve.

Discover the enchantment of Nurturing Baby Cream today and allow your baby's skin to revel in the love and pampering it genuinely deserves. Because with Icona London, every embrace tells a story, and every story is a treasure.
Baby Care Range.
Baby Care Range.
Baby Care Range.
Baby Care