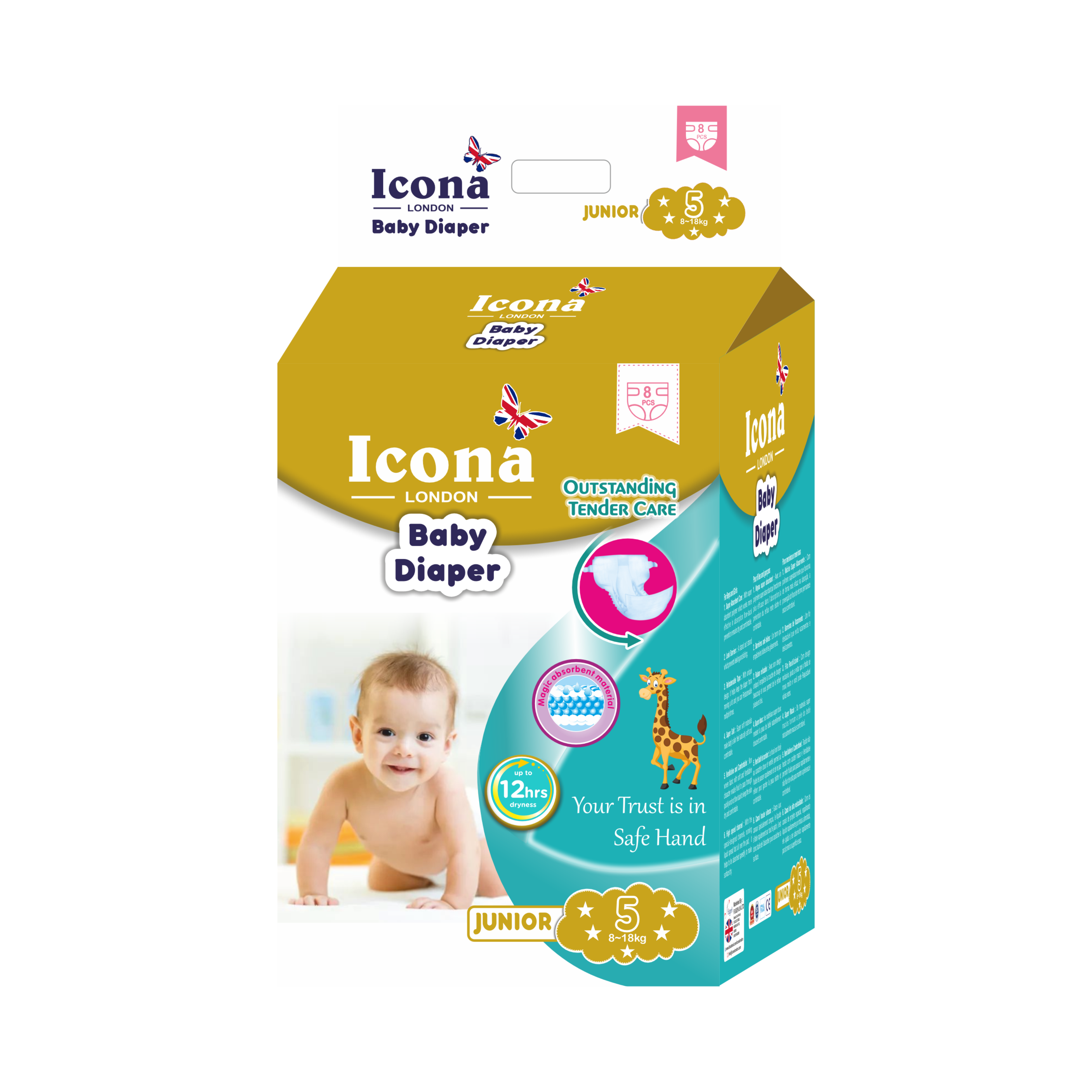 Premium Baby Diapers (Junior)
Description
Introducing ICONA LONDON Premium Baby Diapers, the pinnacle of comfort and protection for your little ones. Meticulously crafted to prioritize your baby's contentment, our range offers the ideal fit for every crucial stage of their early years.

Junior Joy for 5-Year Wonders: Embrace carefree adventures with ICONA LONDON's Junior diapers, tailored for your lively 5-year-olds. Unleash their curiosity while our diapers keep them dry and comfortable.

Maxi Comfort for 4-Year Explorers: Let your 4-year-old explorers roam in comfort with ICONA LONDON's Maxi diapers. Designed to fit snugly and provide hours of uninterrupted play, our diapers ensure both freedom and protection.

Midi Marvel for 3-Year Dynamos: Discover the wonder of your 3-year-old dynamos with ICONA LONDON's Midi diapers. Their boundless energy meets our exceptional leakage protection and softness, making every moment a joy.

Mini Delight for 2-Year Sparklers: Watch your 2-year-old sparklers shine bright with ICONA LONDON's Mini diapers. Designed to keep them cheerful and mess-free, our diapers ensure a hassle-free day for both you and your little one.

ICONA LONDON Premium Baby Diapers are more than just diapers – they're companions in your child's journey of growth and discovery. Crafted with care, infused with comfort, and designed for durability, these diapers ensure peace of mind for parents and hours of blissful exploration for babies. Embrace the joy of parenthood with the assurance of ICONA LONDON. Because your baby's comfort deserves nothing less.
Baby Care Range.
Baby Care Range.
Baby Care Range.
Baby Care