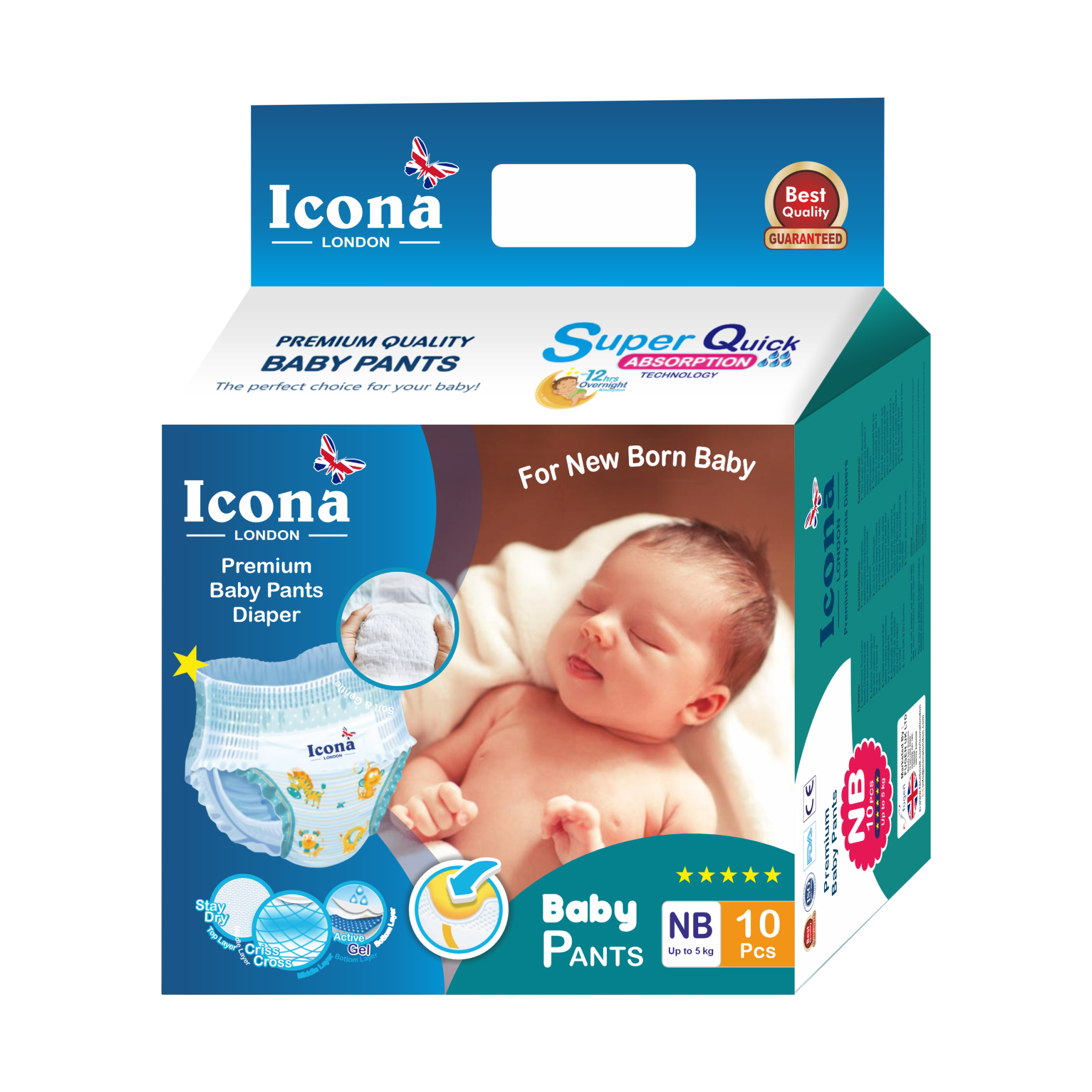 Premium Baby Pants (NB-10 Pieces)
Description
Introducing Icona London's Adorable Baby Pants Collection - Perfect Comfort for Your Little Ones!

Discover the pinnacle of comfort and cuteness with our Icona London Baby Pants Collection. Crafted with utmost care and attention to detail, these pants are designed to keep your precious bundle of joy cozy, stylish, and at ease all day long. Available in a range of sizes from NB to XXL, and pack sizes from 7 to 26, we have the perfect fit for every growing adventure.

🌟 Features that Make Our Baby Pants a Must-Have: 🌟

👶 Supreme Softness: Our baby pants are made from the finest, ultra-soft fabrics to provide gentle touch against your baby's delicate skin, ensuring comfort at every movement.

🌈 Vibrant Variety: Choose from an array of enchanting colors and playful patterns that add a dash of charm to your baby's wardrobe. Mix and match for a unique and adorable look every day.

🔒 Secure Fit: The elastic waistband ensures a secure yet gentle fit, allowing your little explorer to move freely while keeping the pants in place.

🧼 Easy Care: Busy parents rejoice! Our baby pants are machine washable, retaining their softness and color even after multiple washes.

🎁 Thoughtful Pack Sizes: Whether you're looking for a small set of 7 or a generous pack of 26, Icona London has your needs covered, making sure you always have a fresh pair ready.

Wrap your baby in the warmth and coziness of Icona London's Baby Pants. Designed with love, care, and the highest quality standards, our pants are an essential addition to your baby's wardrobe. Let your little one explore, play, and grow with unmatched comfort and style.

Shop the Icona London Baby Pants Collection today and embrace moments of joy, laughter, and comfort that define your baby's earliest years. Because with Icona London, every precious moment deserves the perfect fit!
Baby Care Range.
Baby Care Range.
Baby Care Range.
Baby Care